Fresh on the board-game scene, it's Isla Vista: The Game!
How does one capture the essence of Isla Vista? It was either this or create a cologne. We wanted to create a fun machine that would fill the good time quota for the masses. Perhaps you are a UCSB or City College student living in IV and just want to escape the consistent awesome that your days offer for a fake IV experience. Nothing like playing a board game based on a real thing while living in that thing. Mindblow!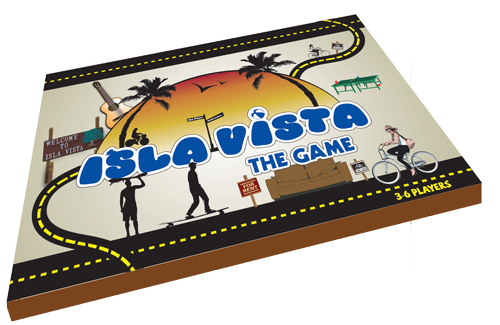 Maybe you visited IV for 1 weekend, tasted the nectar and have been chasing that firefly ever since. What's that? You're an alumni that wrung the fun sponge till it had nothing left, and now you spend your weekends reminiscing of your good times. Perhaps school had nothing to do with it and you have powerfully chosen to lay your head in IV permanently. Whatever your story may be, we would like to offer you a little taste of the Isla Vista life in box form. Pop open your very own Isla Vista The Game and let the fun and sunshine engulf you, even if you are in the Arctic Highlands and your board-game opponents are yetis!
Stop searching for answers to a better life, the solution is right here. You don't think your cat wants to wear pajamas? Sure he does, and they're right here. This is the greatest board game based on Isla Vista ever created! So maybe it is the only board game ever inspired by Isla Vista, that doesn't matter because it is the best!